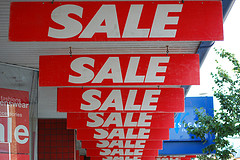 On Every Transaction?
Unless your advertising says "on every unit" or "on every size" or something similar, then you can better manage your discounts when you think of your move in specials as a closing tool, rather than a default part of the transaction.
Move In Special As A Closing Tool
Here's how this concept works in practice.
Let's say a prospective customer calls or walks in to rent a storage space and asks for a size that is highly occupied (let's say 90% or above).  This prospective customer is interested in renting with you, and is also aggressively looking for the best deal so they  ask for your most aggressive move-in discount that you have advertised on a sign or flier or website.  Assuming, as I mentioned above, that you haven't promised the discount on every storage space, you simply reply that your move-in incentives are tied to occupancy and that if they would like to rent a <name size that has the most vacancy> you would be happy to give them the <most aggressive move-in special>.
You then continue explaining what you are willing to do for them on the size the originally requested.  That would sound something like this, "If you still would rather have the <size they originally requested> I can offer you <very small token discount like $10 off the first month> .
Then be quiet.
You'll be surprised at how many will move forward with the rental/reservation right then.
Escalate or Follow Up
For those shoppers that say something like, "Well…. I'm not sure… I think I need to keep shopping," or something similar, then the ball is in your court to stand pat or to escalate your discount or move in incentive. In this way the move-in incentive becomes a closing tool rather than a standard offer.
With this approach you are in a better position to fine-tune your offer. If demand is slow or slowing and you really do want the rental, then sweeten the deal. If demand is strong or you are renting something you know your competitors don't have, then maybe you let them go and use your follow up skills to rope them back in.
Do you differentiate your move-in incentives based on occupancy? How do you do it?
Photo Credit: timparkinson