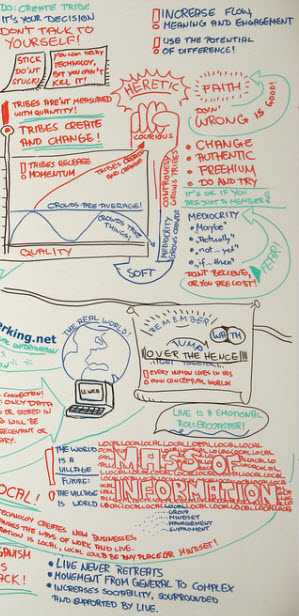 The good folks at the Texas Self Storage Association have invited me to speak at their Executive Retreat next week about social media.  I jumped in and started experimenting with social media just because my 'gut" told me that it was more than a passing fad.  Alas, no one at an *Executive* Retreat really cares what my gut says so I thought I better find some data  and statistics that will help the executives in the room make sense of all of the hype.
I thought I would share a few interesting tidbits with you.
Social media is not just for young people.
John Gerzema writes in this Inc. Magazine article:  "I oversee the world's largest database of customer attitudes and behaviors: My company polls 16,000 people each quarter in the United States. According to our data, 51 percent of Facebook users are over 40. For YouTube, the number is 49 percent, and for Twitter 45 percent. Moreover, 47 percent of people in that age bracket believe they are innovative, and 49 percent feel they're "up to date on the latest technology.""
The takeaway: Your customer demographic is using social media and you could be connecting with them there.
There are more people on Facebook, but the people on Twitter are more influential online.
A study released by ExactTarget in August 2010 finds consumers who are active on Twitter are three times more likely to impact a brand's online reputation through syndicated Tweets, blog posts, articles and product reviews than the average consumer.  Furthermore, "Morgan Stewart, principal, ExactTarget's research and education group, says… "what happens on Twitter doesn't stay on Twitter…  the number of active Twitter users is less than Facebook or email… (but) the concentration of highly engaged and influential content creators is unrivaled-it's (the) gathering place for content creators whose influence spills over into every… corner of the internet."" (source: here)
The takeaway: You might struggle to understand why people use Twitter, but once you figure it out you can influence the online influencers in your community.
Your peers in other industries are succeeding with social media
The takeaway: Social media is not just for brand awareness; it can be used to directly generate leads that translate into customers.
Of course that's only part of the story, but maybe its enough to get you to do some experimenting.  If you've already jumped in and started, leave a comment and let us know about your experiences so far.
Photo Credit: Birgerking