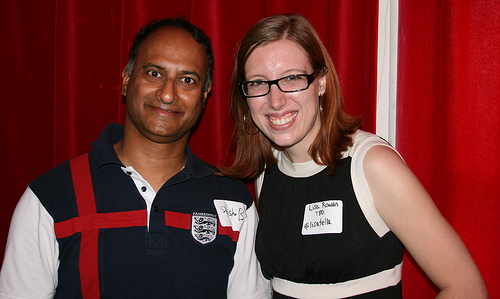 You Like The People Who Come To You
Its essential to be able to work well with your existing customers.  The problem is that there are lots of times when having the ability to initiate the relationship is important.  I'm thinking of networking functions like chamber mixers, business expos, tweet-ups, charity events, etc.
I give you a bunch of suggestions on how to initiate a conversation in this post: Self Storage Networking Events Part 2
Then They Ask… So, What Do You Do?
Once the conversation gets started its almost inevitable that you'll be asked,  "So what do you do?"  Here's a formula for a reply that comfortably gets across not only what you do, but also how you might help the people you talk with.
"Well, you know how some people* have….[INSERT PAIN POINT/PROBLEM]?"
Pause and wait for acknowledgement.
"Well, what I do is…[INSERT ANSWER/SOLUTION]."
*People can be changed out to any target market/ideal client you'd like to substitute it with:  for example, apartment complex managers, housekeepers, etc.
For example, let's say you approach a real estate agent at a chamber meeting hoping to make a connection that might lead to some referrals. Here's how it might sound in real life.
"Hi Jane, I'm Kenny.  I'm new to these chamber mixers."
Jane responds and inevitably asks some variation of… "And what do you do?"
You reply, "Well, Jane, you know how some people need to get stuff out of their homes so that it will look less cluttered, so the house will sell faster?"
"Some people! Sheesh, just about everyone." replies Jane.
"Well, what I do is make it really easy for people to take care of all of that excess stuff by storing it in a secure and inexpensive self storage space."
One more example, this time you are talking to a local bank manager (it seems there's always one at every business mixer).
"Hi I'm Kenny.  I'm kinda new at getting out to these networking events. How about you?"
The banker replies and you start talking.  You ask him what he does and he replies, "I'm a banker with Mega Bank."  To be polite, he asks you, "And what do you do?"
You see this as your opening to use the formula, and you say something like…
"You know how some of your mortgage customers get stressed out when they move?
"Yeah."
"Well, what I do is provide clean and inexpensive storage space for people's furniture and other household stuff while they are moving. My company is called Super-Deluxe Storage."
Was that helpful?  What do you find works for you?
Thanks to Barbara Lopez
Thanks to Barbara Lopez for this idea.
I sent my team through her self-introduction workshop and it was great.  Each of my store managers came away with a lot more confidence and a dynamic self-introduction.  I highly recommend it.  If you want to set something up for your team, you can call her here: (916) 631-7119
Also, she has lots of good stuff on her blog, Brightfarm Introductions.

photo Credit: Shashi Bellamkonda
More Posts about Self Storage Networking